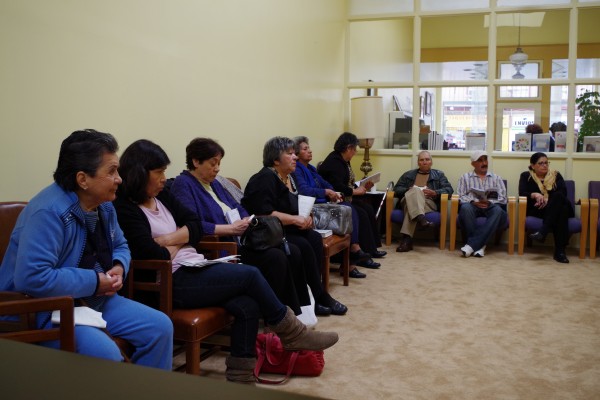 Sunday Morning at 10AM: Hear Our Bible Lesson & Join Our Group Discussion.
Unlike most other Christian Churches, our Pastors are two books: The Bible and Science and Health with Key to the Scriptures, by Mary Baker Eddy. We select "Readers" who, each Sunday, read selections from each book on a variety of topics—each a powerful spiritual healing message. This service is bi-lingual…part read in Spanish and part read in English. Following the readings, the group joins in sharing food, (that we provide), followed by the group discussing questions or sharing their "insights" from the readings. And so that no one is left out, members spontaneously translate Spanish to English or English to Spanish. It's a joyous time of sharing and the time flies!
Sunday Morning at 10AM: Youth "Bible and Healing" Classes (for ages 2 to 20).
Young people are natural spiritual healers. Why? Because their young minds are not so burdened by the limitations and fears that too often hinder their parents. In our lively youth "Bible and Healing" classes, young people learn the spiritual principles and laws that, (when applied), produce physical and emotional healing as taught by Jesus and other Bible characters. Students will also use Science and Health with Key to the Scriptures, as part of their course work. In our classes, young people are challenged to make the spiritual principles their own, for use at home and in their daily lives.
Wednesday Evening at 7:30: Hear a Short Bible Message and Join Testimony Meetings
Spiritual healing is central to Christianity. And healing, as Jesus taught it, is the reason for our church. You are welcome with open arms to our Wednesday service. Come hear how people like you are being healed of the most difficult illness—in some cases, illness and diseases that are considered "incurable". Hear how God heals financial problems, restores relationships and marriages, and how "with God nothing is impossible", (as the Bible promises), through God-inspired prayer.